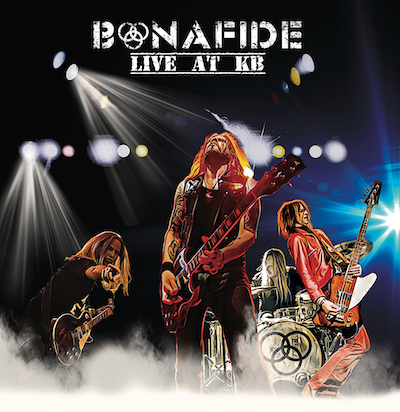 Bonafide's big live album "Live At KB" was originally released on LP and CD in 2019, and is now finally available online for streaming and download on Spotify and such services!
The album was recorded during one special night at the legendary club KB in Malmö, Sweden in February 2018, and features the fierce band in its natural habitat.
Listen to the album on Spotify!
Buy downloads on iTunes Music Store!
Order the album here – from the official merch store!
LP – 19€ + shipping
CD – 15€ + shipping
Here are some reviews!
• CGCM Podcast (Canada)
• Rockfarbror (Sweden) 5/5
• Artrock (Sweden) 9/10
• Neckbreaker Musikmagazin (Germany) 8,5/10
• Gaffa (Sweden) 4/6
• Sydsvenskan (Sweden) 3/5
• Sweden Rock Magazine 8/10
Track list:
Side A
Dirt Bound
Hold Down The Fort
Hard Living Man
Bottle Of Jack
Rag And Bone Man
Side B
Peg Legged Pete
Hard Case To Break
No Doubt About It
Fill Your Head With Rock
CD version contains the bonus tracks:
Backroom Entertainment
Power Down
Butter You Up
Night Time